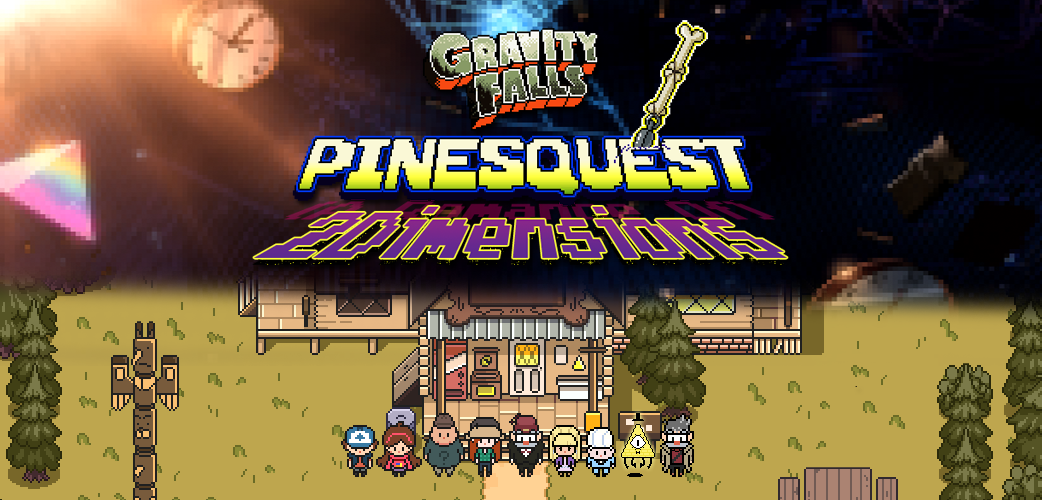 Gravity Falls - PinesQuest: (A Romance Of) 2Dimensions
A downloadable game for Windows, macOS, and Linux
PinesQuest: (A Romance Of) 2 Dimensions, or PinesQuest 2D for short, is a dungeon crawling RPG fan game based on the Disney animated TV series Gravity Falls. The game is something of a spiritual successor to the official browser game PinesQuest, using the same graphics as well as new assets in the same style. PinesQuest 2D takes place immediately following the end of the show. After falling asleep on the bus back home to Piedmont, Dipper and Mabel Pines awake to find there's still one more strange, mystery-filled adventure waiting for them that summer...
FEATURES
An all-new original Gravity Falls story starring the Pines family and company, as they must face a new threat connected to Bill Cipher's past and his mysterious home: The 2nd Dimension!
9 playable characters! Form a party with Dipper, Mabel, Soos, Wendy, Stan, Ford, Pacifica, Gideon and even Bill!
More than 10 dungeons based on various locations from the show to explore!
More than 90 unique enemies! Battle the weird and wacky creatures of Gravity Falls!
Collect clues and crack codes to discover secret areas, special items and powerful weapons!
Ultra difficult hidden bosses for those up to the challenge!
Music from the show's original score by composer Brad Breeck!
AND MORE!?!?
FAQ & BLOG
Check out the FAQ and follow the production blog for development updates!
DISCLAIMER
This is a fan project made out of love for Gravity Falls, copyright of which belongs to Disney and Alex Hirsch. Those involved with the development of PinesQuest 2D do not claim any ownership over Gravity Falls and do not profit from this game, which has been created as a tribute to the animated series, by fans, for fans.

Current Build: Extended Demo Version 0.7*
*Because this game is a work in progress, the content and features of the current demo may differ from the full and completed version when it is released.
Install instructions
FOR WINDOWS USERS:
Download the current build zip file.
Create a new folder anywhere on your computer EXCEPT your desktop.
Extract EVERYTHING from the zip file into this new folder.
Inside the new folder will now be Game.exe
Run Game.exe
FOR MAC AND LINUX USERS:
Follow the above instructions for Windows users through Step 4.
Download and install Wine from Wine HQ
Once Wine is installed, try to run Game.exe. You should be prompted with the option to open it through Wine.
Run Game.exe through Wine.
Please email novainlustris@gmail.com if you have any issues running or playing the game.
Download
Download
PinesQuest 2D Extended Demo v0.7.zip
346 MB